What do your dollars support when you donate to Paul's Pals?
October 16, 2019
What do your dollars support?
1. Every child's right to play.
When you have a child with a disability, finding playgrounds, community programs, and other activities can be exhausting. With so many barriers to participation such as traveling far distances, costly additional fees, or basic lack of physical accessibility, your child's ability to enjoy activities with friends seems impossible. Your dollars support the future we are working towards.
Imagine a future where your child has access to the tools and programs necessary to feel included, build relationships with other children, and get active outdoors or inside. An accessible playground within easy driving distance of your home; a basketball program with adaptive equipment where your child is a unified part of the team; or access to new technologies to expand your child's learning and ability to communicate with others. That's the future your dollars support.

---
2. Possibilities for children of all abilities through accessible experiences that foster inclusive communities.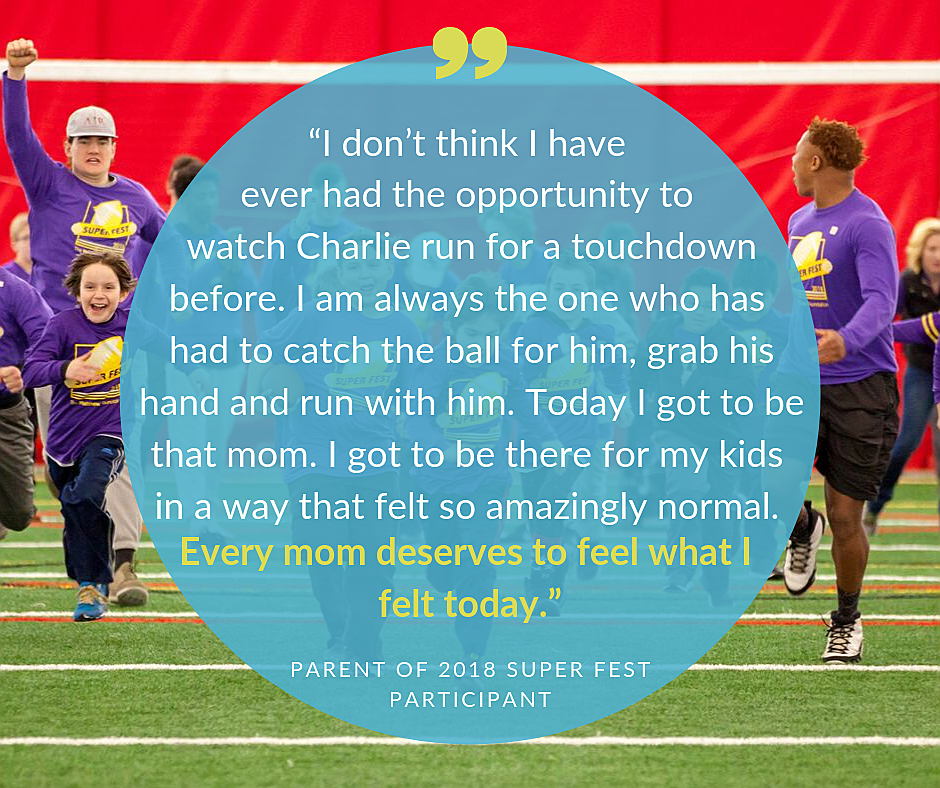 Our Adaptive Athlete Series was sparked by The Matthew Foundation's Super Fest, an annual inclusive football and cheerleading clinic held the day before the Super Bowl in the host city. When the Super Bowl and Super Fest came to Minneapolis, Paul's Pals served on the host committee and the event received an overwhelming amount of support from the Minnesota community.
Minneapolis became the first ever satellite location for Super Fest in 2019 in partnership with the Matthew Foundation and over ten local community partners, including the Minnesota Vikings and Life Time Sport Winter Park.
With an overwhelming amount of support and obvious need for these type of events, we decided to expand our programming to baseball and soccer. Your dollars support these events as well as exploration to future programming including esports, hockey, basketball, and more!
We hosted the first annual Super Star Classic on Tuesday, July 23 in partnership with the JP4 Foundation and the Saint Paul Saints in conjunction with the American Association All-Star Game. In addition, we are working to plan the Super Cup in partnership with the MN United FC.
---
3. Our work in finding and providing funding opportunities for play-based projects that enrich the lives of children with disabilities.
A wheel-friendly surface for baseball. A zip-line with supportive seats. A robot that transmits class discussions back to a hospital bed.
Upgrades, technology, and equipment like these open up worlds of opportunity for children with disabilities. But they require investments beyond the budgets of camps, hospitals, schools, and many other great non-profits serving kids.
Paul's Pals is the bridge. We raise funds, then screen and partner with trusted organizations to make their best adaptive projects happen. We consult with grant recipients and monitor results. Collaborating, we help thousands of kids and families across Minnesota live fuller lives and enrich their communities.
Started as the Paul Adelman Children with Disabilities Endowment Fund in 1996 and now reorganized as Paul's Pals, we have distributed $1.5 million, funding 92 projects with 36 unique organizations!